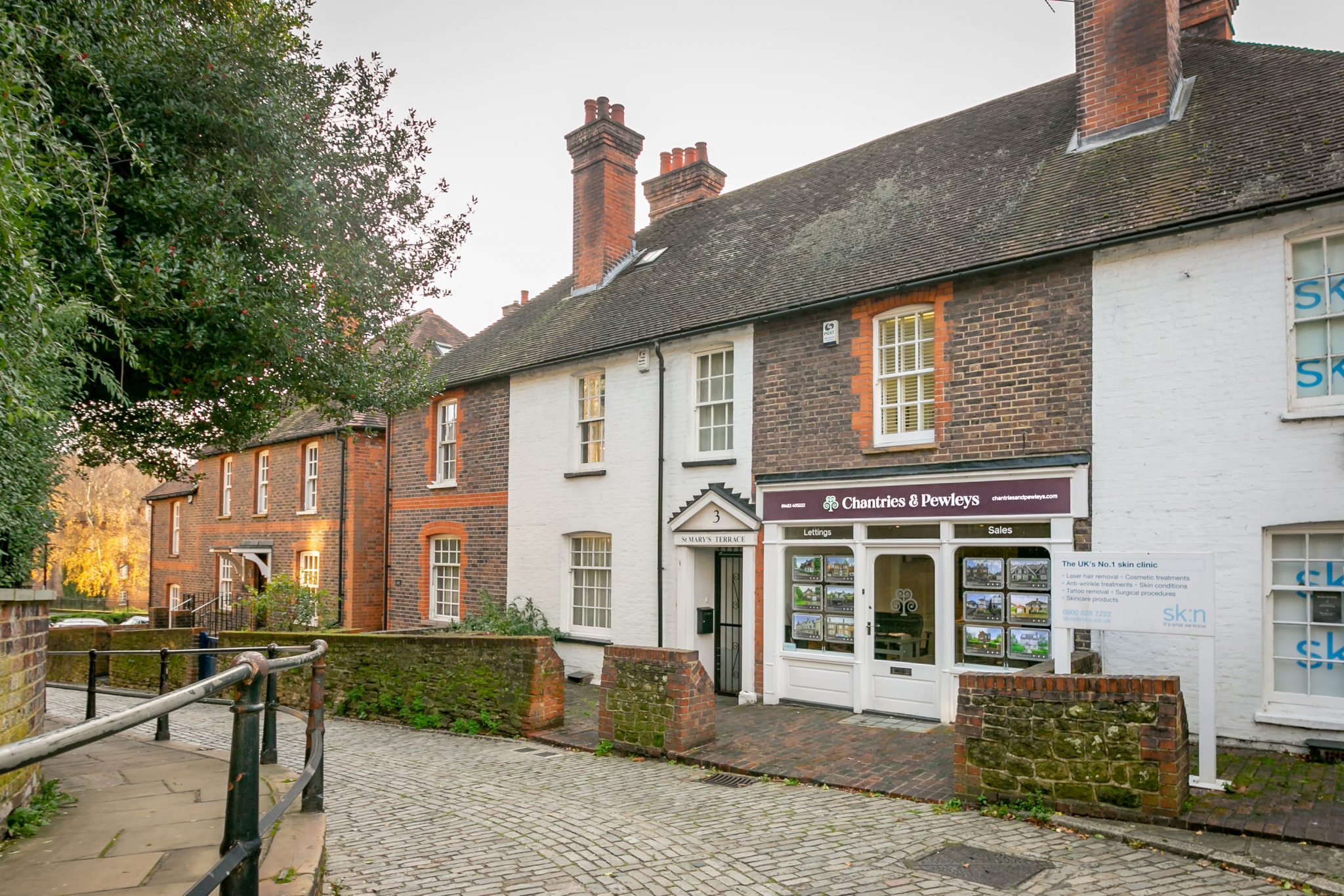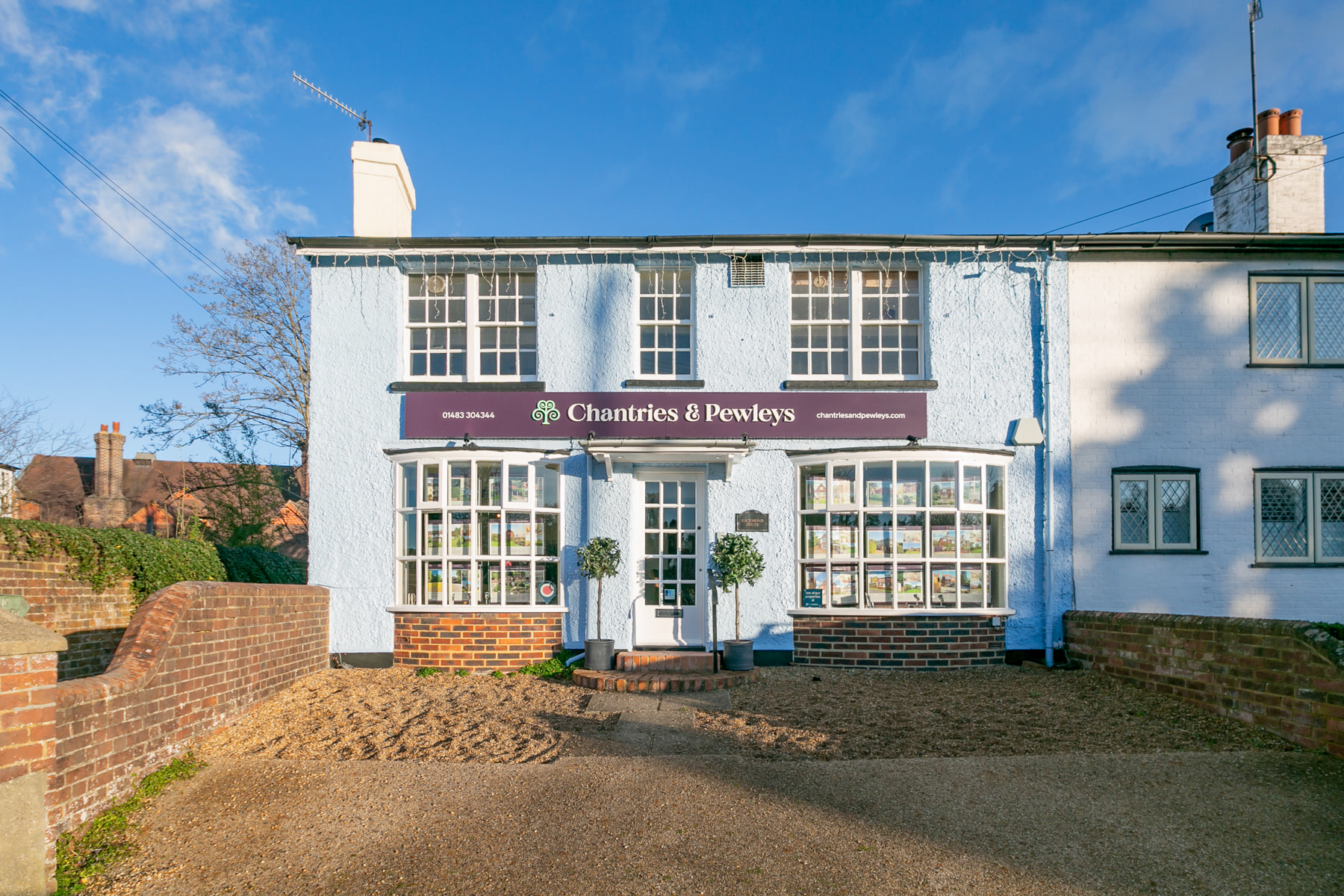 Property experts for Guildford & the surrounding villages
Two heads are better than one… or in the case of the newly formed Chantries & Pewleys Estate Agents, three heads!
Chris Dean, Anthony Brown and Richard Prynne have led their two respective local and independent companies, Chantries and Pewleys, for the last ten years, positioning themselves through hard work, dedication and in-depth local knowledge, as highly respected market leaders.
Now it's time for the next chapter in their story and so the two firms have merged to form Chantries & Pewleys Independent Estate Agents.
With 20 staff operating out of three offices – Guildford Town Centre, Merrow and Shalford – they are able to offer their clients unrivalled local coverage and a wealth of experience in the local market.
Our team

Testimonials
A huge thank you to your team and everybody involved who helped sell our home, you have all been wonderful!
Thank you so much for everything you have all done to be a part of our journey to our new home. Your sensitivity to our situation, compassion and consideration has made a painful process, a less painful one and that is something I wont ever forget. I would happily sell through you in the future.
Just a little thank you to say what a pleasure it was dealing with you. We have already been singing your praises to all our friends thinking of moving and will continue to do so.
Thank you all so much for getting a sale and helping me through and keeping me calm. You guys are brilliant!
Thank you so much for everything you have done with selling our house for us. We can not express through words how grateful we are to you and your team. We will be recommending you to all of our friends.
Just a quick note to say thank you all for making the sale of our property as easy as it possibly could be. You were unfailingly friendly and lovely and we will certainly ask you to sell our house if we every decide to move again.
Thank you so much for all the help, support and advice that you gave to me during my house purchase. I really love my new home! Your kindness and professionalism was greatly appreciated.
We just wanted to say thank you for all that you did to help us sell our home. You made a stressful time easier and we were very grateful for your calming influence and sensible negotiations.
Thank you so much for helping to push through to exchange. You found us the most lovely buyer and we are so very grateful for all your hard work and efforts. You rock!
Thank you so much for being such a great Estate Agency. Your team work is great and everyone is so helpful. I would certainly recommend you!
I would like to say a very big thank you to you and the team for all your support over the past year. We are very excited to be starting a fresh new chapter and want to thank you for your efforts in getting to this stage.
From the very start Chloe was at hand to answer any questions we had. Response time has been amazing and the levels of friendliness has been very appreciated. Thank you for such a smooth renting process.
Angela assists me with every detail during my rental. I feel lucky to meet with Chanteries & Pewleys team! Thank you!!
I couldn't rate Chantries and Pewleys Estate Agent more highly and unhesitatingly recommend them. Run with the utmost of professionalism, Anthony and Chris went above and beyond and delivered an exceptional service (with lovely dose of humour, too). Should I ever think of selling and buying again, they will be the estate agents I will go to.
Certainly Chantries' customer service was head and shoulders above most other agencies we came into contact with during our search! It could have been incredibly stressful trying to sell our house during the COVID-19 crisis and lockdown period but Gavin made the whole process straightforward and enjoyable.