MOVING COUNTDOWN CHECKLIST – Four weeks to go!
November 1 2023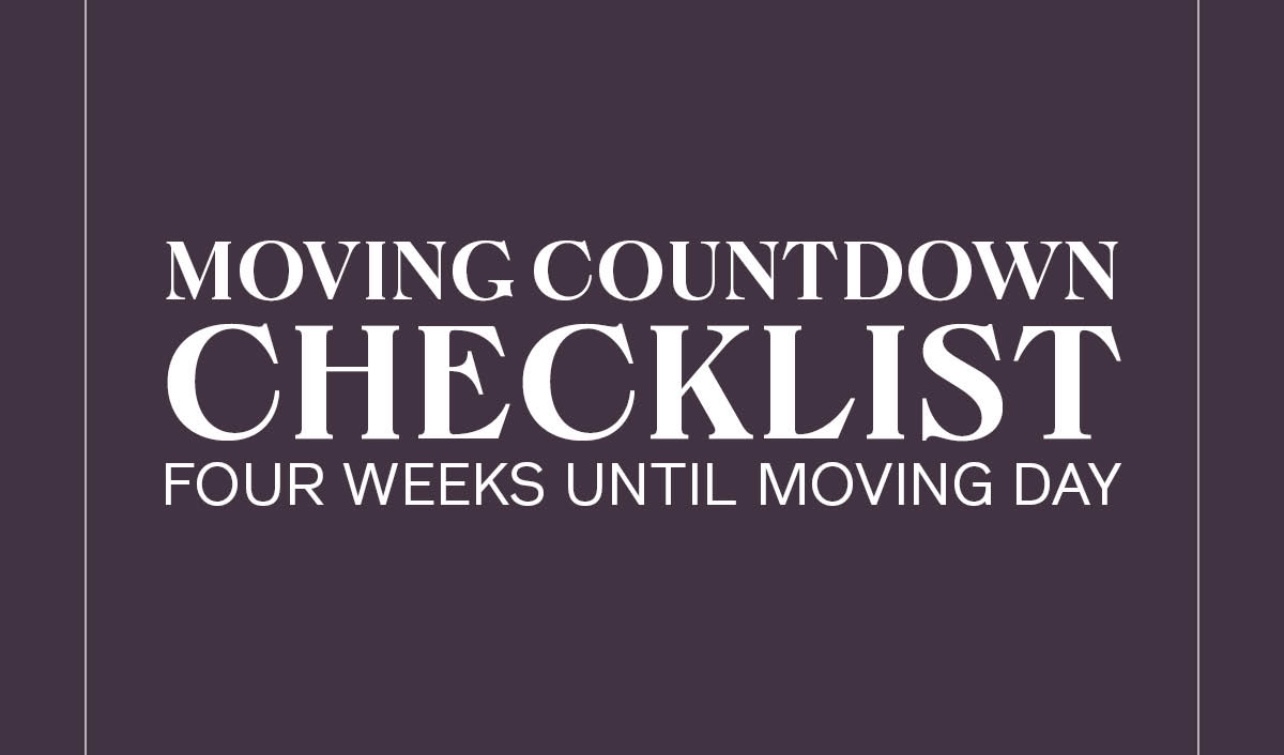 If you have already exchanged contracts or agreed your new tenancy agreement and your moving date is on the horizon, you will doubtlessly have a lot to organise before the big day arrives.
Here is our checklist of things to arrange and organise to help you along your way.
PACKING – If you are planning on packing smaller items into boxes yourself, then it is never too early to tick this job off the list. We would advise you to label each box with a brief description of its contents and which room you would like them to go in your new home. Pack heavier items with lighter ones so as not to overload the boxes, or the removal men!
BANK ACCOUNTS – Notify your bank of your change of address, maybe consider changing your home branch if you are moving to a new town. Don't forget any items that are retained by the bank for safe keeping!
BANK / STORE CARDS – Remember to fill in the change of address on your statement or banking app, or advise the provider with your new information over the phone, also advise any card protection insurers of your change of address.
STANDING ORDERS & DIRECT DEBITS – Give your new address details to companies with whom you may have standing orders or loan agreements.
DRIVING LICENCE – Completion Section 1 on your licence and return it to DVLA, Swansea, SA99 1AB.
POST OFFICE – Provide the Post Office with at least seven days' notice for the redirection of your mail, this can be done voer the counter and most Post Offices or online.
PENSIONS – In the same way as redirection, you can change your address details retained for the purpose of a state pension at most Post Offices, this can also be done online. You will also need to advise any private pension provider of your change of address.
TV LICENCE – Contact TV Licencing to transfer your license to your new address, this can be done online.
INTERNET / TV SERVICE PROVIDER – Inform your provider of your new address at least two weeks before moving. Companies like Sky & Virgin Media will require at least one months' notice to faciliate a new installation so it is worthwhile checking if there is any existing equipment installed at your new home.
TELECOM / MOBILE PHONE PROVIDER – Contact providers including your internet account to advise them of your new address details. This can be done online, over the phone or if you are with a high street provider then pop into one of their stores, you will need to allow up to two weeks notice.
MOTOR VEHICLE REGISTRATION DOCUMENT (V5) – Send the appropriate section to the Vehicle Licensing Section Centre, Swansea, SA199 1AB or complete your form online.
DOCTOR / DENTIST / OPTICIAN – De-regsiter if you are moving out of the area and research alternative practices nearer to your new address. Liaise with hospitals if you are receiving ongoing treatment.
BUPA / PRIVATE MEDICAL INSURANCE – Advise change of address and/or research new schemes that are available to you.
COUNCIL TAX – Notify the relevant authorities in both your current area and in the area which you are moving to.
PETS – It may be advisable to arrange for family or friends to care for your animals during the move, or investigate using the services of a cattery or kennels. Arrange for a transfer of your pets records to a new local vet practice.